INTERNATIONAL CARRY-ON
19 DEGREE ALUMINUM
Availability:
Most orders for In-Stock products begin shipping as soon as your online purchase is completed. Products are shipped once they are located in stock, your payment is approved, and the receiving address is verified. In Stock
INTERNATIONAL CARRY-ON
19 DEGREE ALUMINUM
View Entire Collection
Details
https://www.tumi.co.th/en/international-carry-on/98817-4482.html
Product Actions
About this Item
Style: 98817-4482
The farther you go, the more stamps on your passport, the better your story. Your 19 Degree luggage is part of that story. Exceptionally striking up close or from a distance, this super durable carry-on boasts a modern silhouette with fluid looking, strategically contoured angles. Ideally designed for short, overnight trips and travel within Europe and other international destinations. Note that hanger shown is not included with this item; it may be purchased separately (#0052). As with all metals, wear and tear, including nicks, dings and slight denting, is to be anticipated and carried with pride for a journey well-traveled. To further add to the unique characteristics of your travel case, we've packed a variety of vintage-inspired decorative stickers inside your case.
Features and Specifications
Dimensions
H: 64.7 cm
W: 41.5 cm
D: 26.2 cm
Interior Feature
Vintage-inspired destination stickers included,3 zip pockets,Tie-down straps,Hanger bracket
Exterior Feature
Frame system opening,2 TSA integrated combination locks with push button to open,3-stage telescoping handle system with push button,Retractable top and side carry handle,4 dual-spinning recessed wheels
TUMI Innovation by Design
Aircraft Grade Aluminum Extension Handle
The tubing of our telescoping handles is made from aircraft-grade aluminum, making them both lightweight and extremely sturdy.
FXT Ballistic®
Tumi was the first to bring ballistic nylon to the consumer market over 30 years ago. Now we have perfected it with our exclusive FXT ballistic fabric, which combines a unique weave and a special coating to make it ultra-tough and virtually abrasion proof. Our FXT ballistic nylon® performs better than other top competitor soft side materials in durability testing.
Omega Closure System®
Tumi's patented closure system significantly reduces the risk of damage to the zipper. The Omega zipper puller is designed to break away from the bag if it becomes caught. The puller, rather than the entire zipper, is then quickly and easily replaced.
Tumi Tracer®
The Tumi Tracer® is an exclusive, complimentary program that helps reunite Tumi customers with their lost or stolen items. The core of the program is a unique 20-digit individual product number printed on a special metal plate that is permanently affixed to Tumi products. That number, along with the owner's contact information, is entered into our Tracer database when a bag is registered with us, and used to help aid in the recovery of lost or stolen items that are reported to us.
X-Brace 45® Handle System
This patented, innovative handle tube system protects the telescopic handle of the travel case. It is made from lightweight-yet-sturdy aircraft-grade aluminum that forms a protective, impact-absorbing structure around telescoping handle tubes within the case. This new feature virtually eliminates damage to the handle tubes while reducing the overall weight of the case.
DuraFold™
Tumi's patented DuraFold™ construction method folds and reinforces the corners of hardside cases with heavy-duty stitching and impact-resistant caps that provide superior corner strength and impact resistance for long lasting use.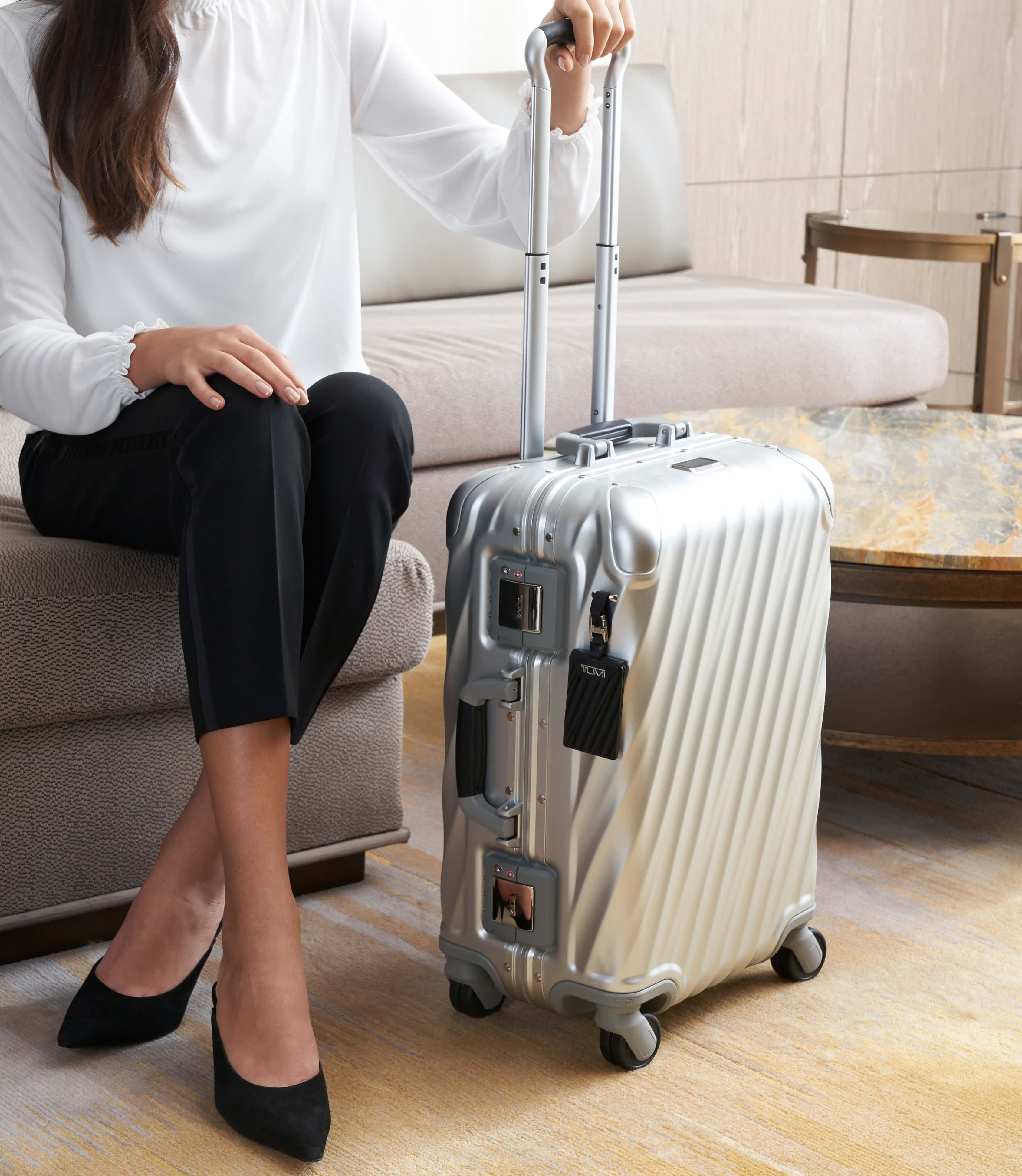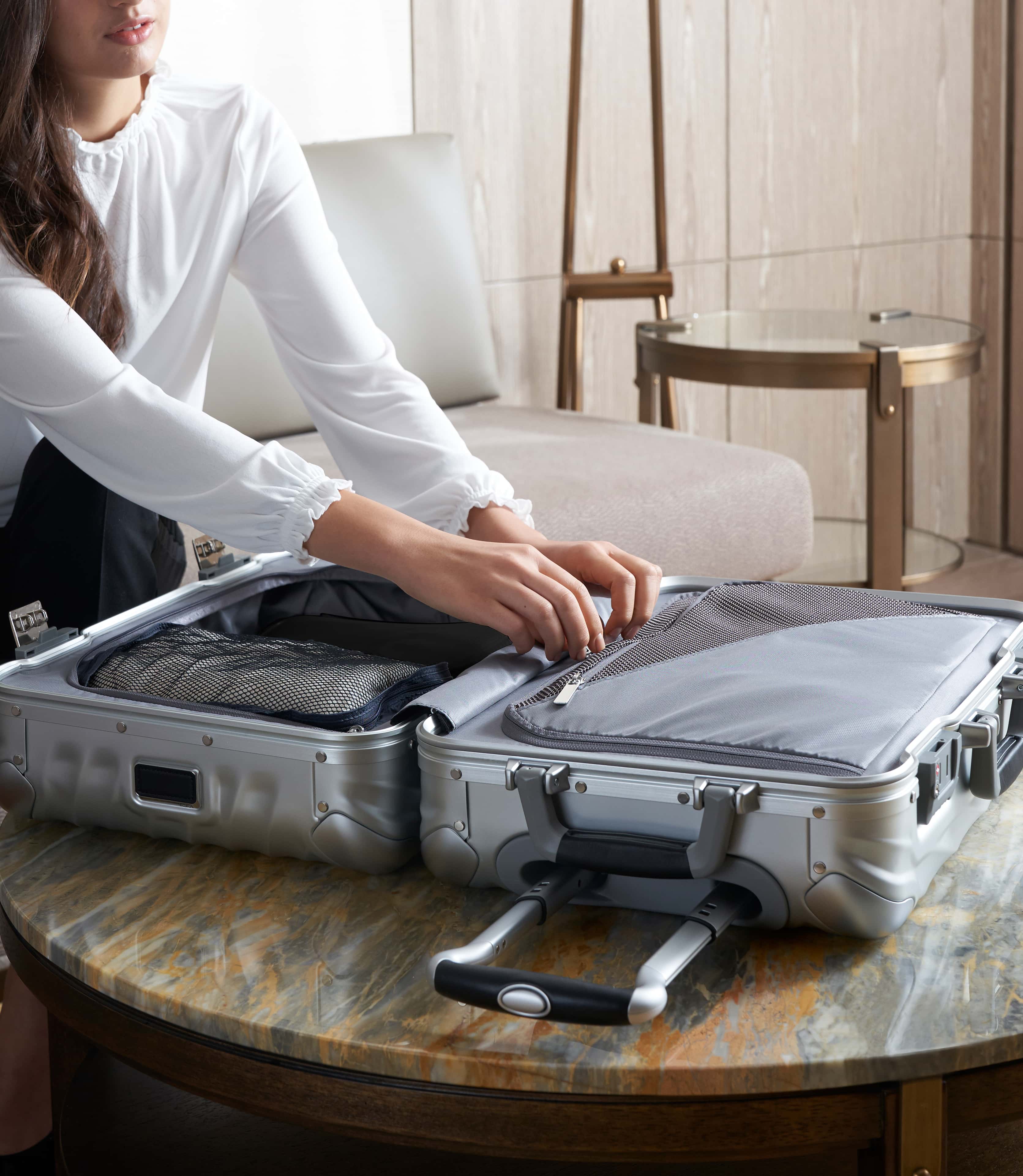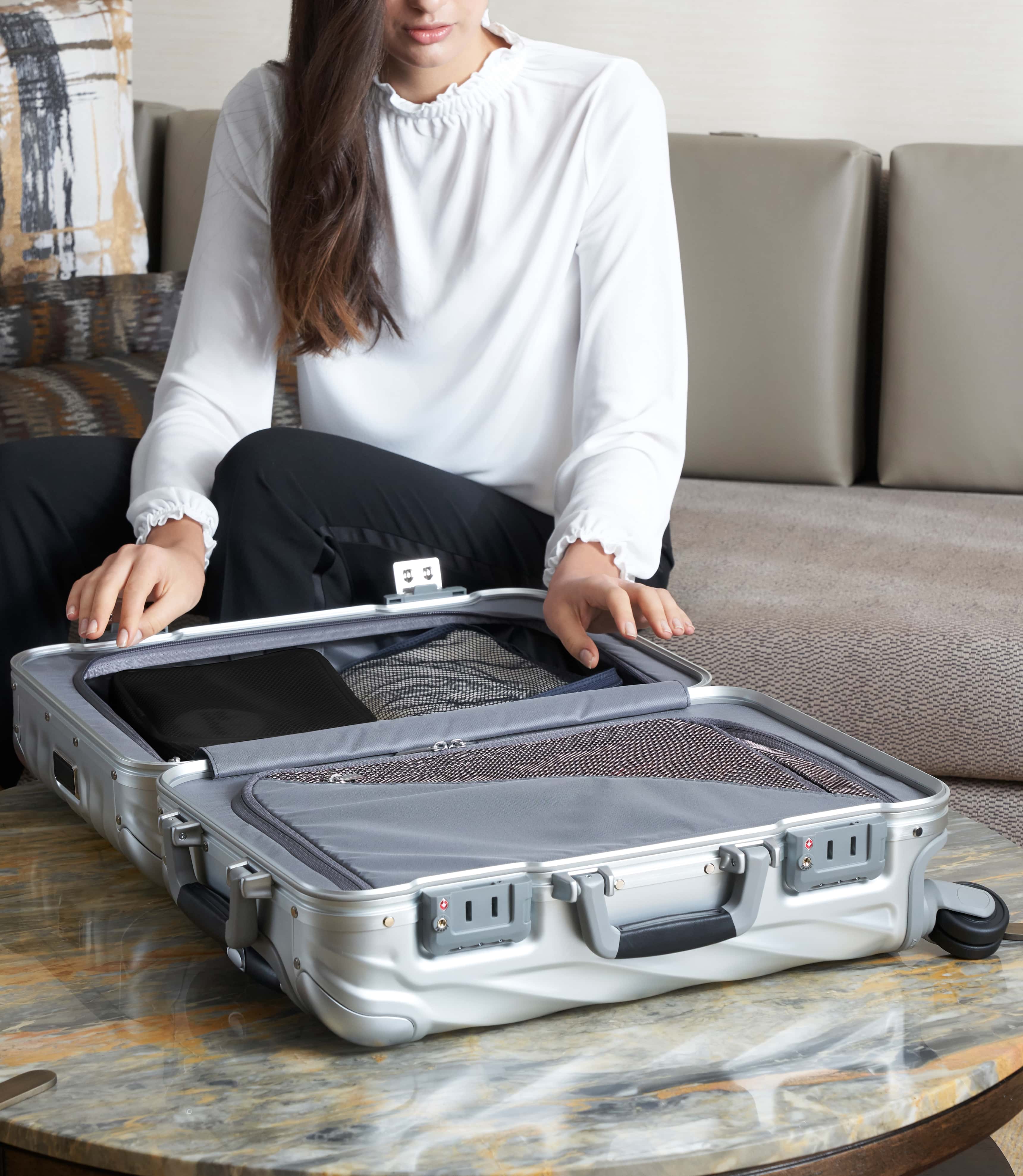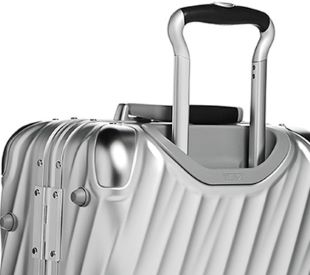 ULTRA ORGANIZED
Professional style
Secure clothing with an internal hanger bracket and move freely with an elegant and durable three-stage telescoping handle.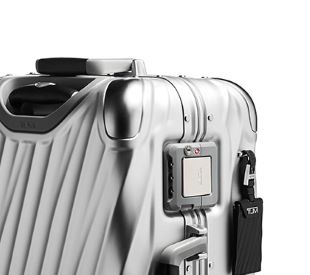 ALUMINUM CONSTRUCTION
The perfect finish
Crafted with aluminum, this striking hardside case is available in brilliant silver and matte black.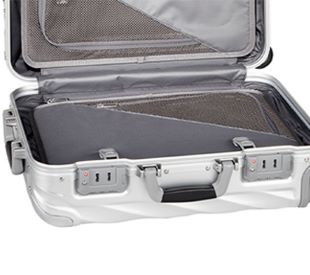 DURABLE EXTERIOR
Design that tells a story
The inevitable nicks and dents of any journey will become an authentic part of your case's aesthetic.